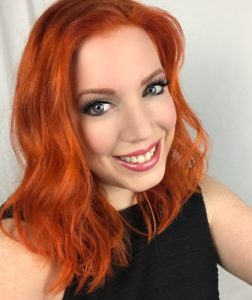 Click here to visit Renee's most recent review published in The Journal of Dress History, located at p.151. 
Renée Nicole Gray is an artist, fashion historian, writer, designer and performer. Her research focuses on stage and film costumes of the twentieth century, royal dress and the role of fashion in women's rights movements past and present. Her popular writing includes The Streisand Style Files, which celebrates the unique style of Barbra Streisand while connecting pieces of her wardrobe to the history of clothing and celebrating the many iconic designers who created them. 
Renée moved to NYC as a teenager to pursue a career in performing arts and went on to work in numerous film and TV productions, as well as in commercials, print model ads, and as a voice-over artist for the Playboy cartoon "Bunni Power." Her theatre roles include appearances in the NYC Fringe Festival and Midtown International Theatre Festival, and she has worked as a costume designer for multiple productions. Visit her IMDB page here.
Renée is best known for her decade of work as Hollywood's go-to Lady Gaga lookalike, sound alike, and tribute artist. In 2010 she stumbled into a job as a Lady Gaga impersonator and went on to create the tribute show "The Lady Gaga Experience." Over the next nine years, Renée opened for K Pop star G.E.M. in China, and Rachel Platten. Gray played Gaga in productions for MTV, E! Network, and in "The Fashion Planet" on Dutch/German TV. She also performed at private events for ABC, Bravo, Lan Kwai Fong (China), The Tower Of David (Israel), Citi Field and more. Renée retired from impersonator work in 2019 to pursue other interests, including launching her shop (leapdayrenee.com.)
Gray is currently creating several self-portrait art projects that focus on exploring sociology through her wearable art creations. Renée's research in fashion and costume history is featured on her popular websites, The Streisand Style Files and The Dresstorian.
Renée is a member of SAG-AFTRA, Actors Equity, Costume Society of America and The Association of Dress Historians.