The Asian Mail Order Bride
Many Asian women take on American names when they move here, and when I looked at my phone "Jennifer" was calling me for the eighth time that day.
The first time I had spoken to Jennifer, she told me "I started to produce events here in San Francisco, because I was bored after having baby. No one wants to be fat, boring, not hot, stay at home Mom. So I make parties now." Jennifer had contacted me because she wanted to throw the best Super Bowl party in the history of her town. Something people would be talking about for years to come. She thought hiring an impersonator to perform at the party was an incredibly innovative and unique idea. I absolutely, enthusiasically agreed with her, and gave her my quote.
Five months later, I was at the airport checking into my flight from JFK to San Francisco when I noticed I had six missed phone calls. They were all from Jennifer. She had just wanted to confirm that I had checked into my flight and was on my way to her event. I called her back to let her know that I was indeed ready to board my flight. She said she would see me soon at the pickup area in California. I was scheduled to land around 2P.M, with a showtime of 11P.M. that same night. With the three hour time difference, it was going to be an extremely long day for me. I boarded my flight, and like so many times before ascended into the clouds, with no idea of who or what I would meet on the other end.
I called Jennifer as soon as I landed, to find out where I should meet her. She said she would be waiting for me in pickup area A, in a red Tesla Roadster. Like most people who do impersonations, or drag, I don't travel in costume or character makeup. When I met Jennifer at her car, she looked at me in my street clothes and pouted. Then she disappointedly said "Well, I hope this isn't your best Lady Gaga look." I was a bit taken aback, but said, "No, i'm just me right now. -I don't travel in character." She popped her trunk and remained in the driver seat as I struggled to get my four large pieces of luggage in. When I finally finished I got into the passenger seat, flustered, and buckled my seat belt. "Well, I thought we would go have sushi for lunch at my favorite spot, but I thought maybe you'd be more in a Gaga look. We will go anyway, it's ok. Just disappointing."
When we got to the restaurant, Jennifer laughed out loud after I placed my sushi order, and told the waiter "No, no." She explained that she would order for me, since she knew what was good and bad there. As I looked across the booth at her, I noticed that almost every piece of clothing and accessory she had on was blazing with large designer logos. It was like Chanel, LV, Prada, and Moschino had thrown up on her. Her makeup looked like she had either had a professional makeup artist do it, or had studied and copied 3,000 hours worth of You Tube tutorials. Jennifer was beautiful, plastic, perfect and intimidating. Though she was nearing fifty, my 28 year old perky boobs and wrinkle free skin had nothing on this woman. Money may not be able to buy happiness, but it can sure make you look better. As our lunch progressed, I asked Jennifer how she had met her husband. She got a bit uncomfortable and explained that she had met him online and come from Asia to be with him. After some time, our sushi rolls arrived. I struggled to eat them and pretend to be enjoying her selections, which by decent sushi standards were very mediocre.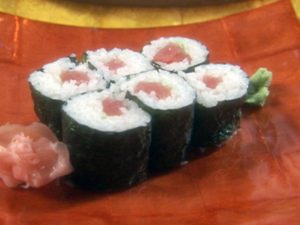 Jennifer asked me about my life, and what else I did, and I told her that I didn't want to be an impersonator for much longer. That I was an artist and hoped to have my own career that didn't involve living in the shadow of someone else's. "So, then, what do you want to be when you grow up then?", she asked me condescendingly. I didn't know the answer to that question yet myself, but I knew it wasn't this. And I was far from hot enough to ever be a mail order bride.
After lunch, Jennifer dropped me off at the 3 1/2 star hotel she had booked for me for the night. She said she would meet me back there in about four hours to head to the venue. She popped her trunk and I struggled with my four pieces of luggage again as she drove off, until a bell hop noticed and helped me inside.
The hotel wasn't the worst or best I had stayed in. The carpet was a bit grubby, but the lobby had free warm cookies so I gave it a pass. As time approached closer to my gig, I decided to do the essentials like my press on tattoos and fake eyelashes in my room. I put on enough "Lady Gaga" that I hoped would give me a pass from more scrutiny from Jennifer on the way to the venue. At exactly 7:30P.M, I heard a knock on my door. I opened it to find Jennifer and her friend Sophia who had tagged along to meet me. Sophia looked me up and down after I opened the door and said "Kon'nichiwa!". Jennifer quickly explained that Sophia was new to the USA and didn't speak much English yet. Sophia was younger and hotter than Jennifer. She looked like an Asian Barbie and was at least as plastic as one. Inside the room, I had my four large pieces of luggage with costumes and props ready to go. "So, you are ready?" Jennifer asked. I confirmed I was all set to go, and Jennifer and Sophia strutted out the door ahead of me in their 6 inch stilettos, leaving me struggling with my luggage for the third time of the day. As we walked to the car, Jennifer told me that she had my return flight boarding pass, and she would give it to me in the morning when she drove me back to the airport. "Oh, I'm pretty sure I already have it on my phone for online check in." I said." "No, I don't see how you would" she responded. I thought this was odd, but continued hustling behind them.
When we got to the club I was performing at that night, the DJ and staff had no idea that a performer had even been booked. Despite the fact that Jennifer had signed my rider and contract promising a private dressing room with mirrors, there as nothing remotely close to this on site. While this problem was being resolved, I put all of my luggage to the side of the stage, and attempted to have a sound check with the DJ, whose mic had completely run out of batteries. He apologized and said he would be back after going to the Dollar Tree to buy more. No one had let him know he needed a mic for a performer.
The DJ ran off, and Jennifer looked at me on the stage as if I were a cockroach. "Why didn't you and the DJ figure things out in advance?!" she spewed at me. "I had asked you for the DJ info to connect with him, but you never gave it to me" I responded. After a moment of processing that fact, she blurted out– "Renée, I want you to look at these amazing space girl costumes my friend and I bought on Ali Express!!!". She and several of her perfect Asian girlfriends stripped down into thongs and pasties to put them on in the middle of there empty dance floor.
"We all look so just like Lady Googoooga or whatever her name is right!!?" she asked. "Yes! Totally!, You all look amazing!" I said. They all spun around and took selfies for a good ten minutes.
"O.K., so the manager said you can get ready in his office." Jennifer explained. "There isn't any other place to use as a dressing room." She pointed me to the door of the office, and once again, I struggled to drag all of my luggage to the room as she watched. After a few moments the club manager spotted me and helped me into the room. It was about 4×6. There was a desktop monitor and the walls were covered with shelves of booze. There was no place to hang costumes, or even a small mirror. I looked around is disbelief at the fact that anyone expected me to roll out a four costume change Lady Gaga tribute show from this tiny of a space. I quickly scanned the room for security cameras, and noticed two facing toward me. I got up on a chair and flipped both of them toward the wall to make sure no one was able to watch me getting naked. This night was already turning into a hot mess, but I realized I had to just make the best of it, get paid and fly home.
I started to unpack my wigs and hang them on liquor bottles, and hang my costumes on any hook like surface I could find. This was challenging since many things were covered in a layer of dirt. I cleared a desk area and made it into my makeup table, propping up my compact mirrors so that I could see myself, and then turned my cell phone flashlight on for lighting. After about a half hour Jennifer popped in. I had just thrown on an unbrushed wig and was halfway ready. Jennifer looked around the room and said "Well, glad you figured it out. Then frowned at my wig and started smoothing it with her hands. "Your hair is out of place." This comment was rich, coming from someone who had shoved me in a closet to get ready with no lighting or mirror. It took everything in my body not to completely lose my shit. "I'm not finished getting ready." I told her.
About an hour later the club started to fill with people, and I was ready to perform my first set. Though I had been promised dinner, clearly no food was coming. My stomach was growling and I was wishing I had traveled with snacks. Jennifer popped in again. When she saw me for the first time in my finished look her jaw dropped. "Oh wow! big difference!" she exclaimed, before whipping out her phone for selfies. She told me that she was waiting for more people to arrive before I went on.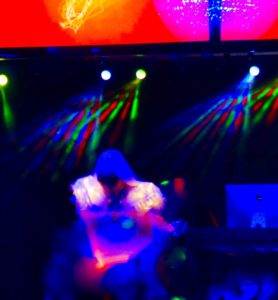 When I finally hit the stage nearly an hour later, the crowd was great. The biggest issue I had was that the DJ kept blending my songs into one another. I was hardly finished "Edge Of Glory" before he would start mashing it into "Born This Way" etc. Clearly this guy had never worked with a performer before. I finished my fourth set around 1AM and then had to walk around the room and take photos with the crowd. By that time everyone was extremely drunk and were roughly pulling me around for photos like I was a Lady Gaga mannequin.
When I finally made my way back to my makeshift dressing room I looked and felt like I had survived a tornado. My headpiece was crooked and I had lost some rhinestones along the way. Whatever rate I had charged, even tripling it would not have made this gig worth the money. I packed my stuff as quickly as I could to get the hell out of there. Jennifer was really drunk, so her husband was waiting nearby the exit to drive me back to my hotel. Jonathan was a totally average looking middle aged white guy who was wearing a "The Fame" t-shirt and some Party City sunglasses, that he quickly explained his wife wanted him to wear. He was very polite and unlike his wife, actually helped me with my luggage. Jennifer got into the front seat and passed out in her space robot outfit. Jonathan talked a little about his job during the drive. He was a software developer who had initially moved to California to work in Silicon Valley. That explained their money. He said that he gave Jennifer a bunch of money to start her nightclub event business and do parties like this one.
I was never more relieved to get back to a hotel room than I was that night. I was still starving, so I raided the hotel shop for microwave popcorn, skittles and ramen to throw together a makeshift 3 A.M. meal. The next morning Jennifer was at my door bright and early to take me to the airport. She was decked out in head to toe Louis Vuitton with oversized sunglasses. As we made our way to the car she explained that she had decided to go to Dallas for a wedding a day early. Since she had to fly out at the same time, she switched my flight to the same departing airport she needed to leave from. She handed me my new boarding pass and my jaw dropped. Not only had my flight been changed, my direct flight was now a multi-leg flight with a 4 hour layover in Chicago. This turned my six hour trip into over eleven. The worst part however, was that she had also changed my arriving airport from JFK to Newark.
I had spent the past 24 hours biting my tongue but finally lost it. "This is not O.K! You should have asked me before rebooking my flight. It is going to take me nearly thirteen hours to get home now, and the airport you have me flying into is in another state!"
Jennifer looked like she could care less and said "Well, I didn't want to have to drive to both airports today. But when we get to the counter, why don't you ask if there is a direct flight." I was steaming as I waited in line at the airline check in. The agent informed me that there were no direct flights to NYC on this airline. Meanwhile, Jennifer stood nearby checking into her flight with all of her LV luggage.
"Did they switch it?" she asked. "No, there isn't anything else from this airport." I said. Jennifer went into her wallet and pulled out $50. "Well, you can use this for a taxi home later." A taxi home from Newark would have been closer to $150. As annoyed as I was, no amount of arguing was going to help at that point. I just knew I never wanted to see Jennifer again. I took the $50 and said "Thanks for having me." As I turned to make my way through security, Jennifer ran after me. "Oh wait! I almost forgot to give you this!" she pulled a small wallet box with a Prada logo out of her bag. "A present!". I said thank you and continued on my long journey home.
As I looked over the box I got kind of excited. Did I actually just get my first real designer item? I opened the box and a gorgeous black Prada wallet greeted me. Inside the wallet was a serial number claiming the items authenticity. For a moment, I thought well, I guess this gig from hell was worth it after all. I texted my friend photo of the wallet and the card and said "Holy shit! Look what I just got!"
I put the $50 bill into my new wallet to christen it, and went through security with a slight boost in moral, knowing I was now the proud owner of a rich bitch designer wallet.
My cell phone buzzed as I headed to my gate. My friend had sent back a link which led me to a website about well known Prada counterfeits. The serial number listed on my wallet was one of them. It was a fake. But a really good fake. I wondered if every designer item I had seen Jennifer rocking had also been knockoffs. Exhausted and deflated, I sat down at the bar and ordered a bloody Mary. I looked down sadly at my fake wallet, and realized I wasn't so different from it. I wondered if, like the wallet, I was also going to spend my whole life being nothing more than a really good knockoff.